Venue: W.I.T Arena, Waterford Institute of Technology, West Campus, Waterford City.
Dates: May 7th, 2017, 10:00 — 16.30
Fee: €90 per person
Tutor: Maedhbh Brosnan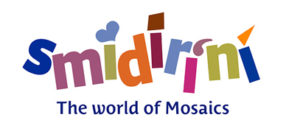 Create a beautiful one of a kind piece of mosaic art over the course of this one day workshop in a relaxed and fun atmosphere. Enjoy the opportunity to explore and develop your own creativity.
All materials, tools, light refreshments are included (NB. lunch may be purchased in café located in the venue)
During the workshop you will learn the basics of the art of mosaic, including design, materials used, substrates, adhesives, cutting and laying and finally grouting. You will be given lots of information to allow you to complete further projects at home.
Queries to:  Maedhbh at (087 9747752) or
Email:  smidirinimosaics@gmail.com